Welcome to St. Thomas Aquinas Middle School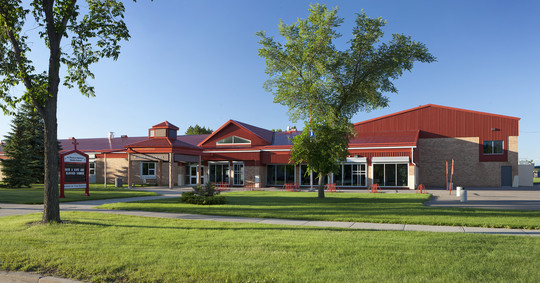 St. Thomas Aqunias Middle School is a grade 6-9 publicly funded school located in Red Deer, Alberta, proudly welcoming children of all faiths desiring a Catholic education.
"Hold on to instruction, do not let it go; guard it well, for it is your life." Proverbs 4:13
PEROGIE FUNDRAISER - ORDER DATE EXTENDED!!!!
ORDERS EXTENDED UNTIL WEDNESDAY, NOVEMBER 19TH!! DON'T MISS OUT, GET YOUR ORDERS IN TODAY!
Click here for order form, this year we also have Gluten Free perogies available!
Political Cartoonist, Fred Curatolo
Political Cartoonist, Fred Curatolo, will be working with our Grade 8 and 9 students on Friday, November 21st.  Fred, a former Sun-Media editorial cartoonist, will be engaging our students in critical thinking through topical debates and cartooning assignments. This is a unique way of provoking thought and allowing the students to learn and create at the same time.
Exhibition of Learning
PLEASE JOIN US ON THURSDAY NOVEMBER 27 @7pm
All students will be presenting….
All parents and special guests are welcome to discuss their child's learning!
Come see how they are learning!!
Lost & Found
All of our lost and found items have been bagged and are ready for donation.  We will be holding them until December 19th.  If your child is missing items, please have them take a look before the Christmas Break.
2014-2015 Quebec Trip Fundraiser
Fundraiser for the Quebec Trip will begin on Wednesday, November 5th during parent / teacher interviews.  Tickets will be available at the school office and during some lunch recess days!        
Tickets will be on sale for the following prizes:                                                                                
Movie themed gift basket  $5.00/each
Boy themed gift card prize $2.00/each or 3 for $5.00
Girl themed gift card prize $2.00/each or 3 for $5.00
Each prize has a $200.00 value!
Draw Date:  December 15th
Blended Program for Elite Performers and Athletes Information Evening
Blended Program for Elite Performers and Athletes 
Parent and Student Information Session
Monday, November 24 at 6:30 Montfort Centre 
Are you a high level performer or athlete?
Do you have a hard time balancing school work and training?
Does your training schedule mean that you are missing classes?
Do you want a flexible learning schedule that will work with your training demands and still allow you to keep some balance in your life?
If so, come and learn why a blended program offered by Red Deer Catholic Schools may work for you. This parent and student session will be hosted at Montfort Centre (5210 - 61 Street, Red Deer) on Monday, November 24 at 6:30 p.m.
Presented by: 
Kathleen Finnigan, Associate Superintendent of Inclusive Learning
Ryan Sawula, Principal of St. Gabriel Online School
Dallas Puto, Vice Principal of Ecole Notre Dame High School
Red Deer Catholic Education Foundation
Red Deer Catholic Regional Schools Education Foundation is seeking new board members. Note that Board members need not have children attending our schools.
The Education Foundation nurtures and promotes Catholic Education and provides funding for school projects and scholarships. The board meets once every two months. There is no meeting in the summer. There is a variety of committee work such as Communications and Marketing, fund development, and fund disbursement.
Some of the projects that the Foundation has funded over the years include leadership retreats, rosary gardens, music camps, social justice and environmental initiatives, and faith retreats.
If you have a passion for Catholic education and have gifts to help grow the foundation, please consider becoming a Board member. For more information, contact Board Chairperson Shelley Holitski at 403-341-7848 or by email atsholitski@platinum.ca. 
Recent School News